This year for the first time in a while, there has been a full programme of Holy Week and Easter services.  The Church, St Andrew's chapel and church hall were used, as well as the grounds, and it was a joy to welcome visitors and old friends to celebrate the most important time of the Christian year.   We were able to attend the Eucharist of the Chrism at the cathedral and we received the Holy Oil, our gift from our Bishop Gregor and installed them in the Church on the Monday of Holy Week.  The three Holy Oils, Catechumens, Chrism and Infirmarium (the oil of the sick)  will be used during the next year when the need arises.  They are an important symbol of our link to our Bishop and our Diocese, as well as their sacramental use.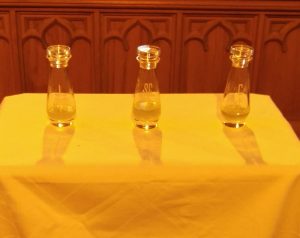 On Holy Thursday we celebrated the Eucharist of the Lord's supper and kept the watch.  We set aside St Andrew's chapel for this, to provide a quiet space for contemplation of the gist of the Eucharist and for keeping that hour with the Lord, in preparation for his passion.
The church and altar are stripped on Holy Thursday night, so when we came into the church bereft of any trappings and with the reserved removed it was a space stark for us to keep the remembrance of the passion and way of the cross on Good Friday. But you cannot get to Easter Sunday without encountering Good Friday.
On Holy Saturday night after the sun has set we kept the Vigil for Easter, and then with great joy proclaimed the risen Lord to a world which so urgently needs the light of resurrection.  The church was looking resplendent with finery restored and clad in flowers to celebrate the great feast.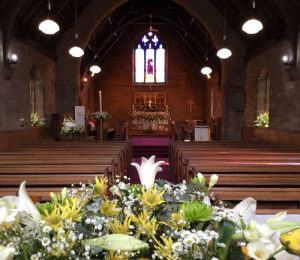 Our liturgical action during Eastertide  starts at the font, that great place of rebirth.
The we move to encounter the light of the Lord's resurrection in both word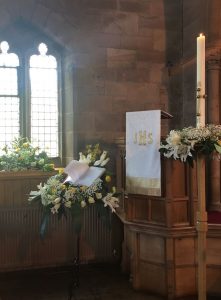 and in sacrament.
When we left on Easter morning the sun was breaking through a dull morning.  It was such a joy to bring light out into light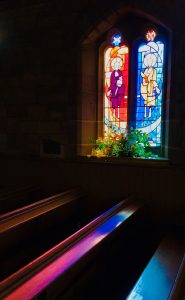 The Lord is Risen – HE IS RISEN INDEED
Alleluia