Our life together in Monklands, centres around the three tables at which we encounter each other in our faith journey. For us, this is the table at which we gather to meet the Lord in both word and sacrament, the table at which we work and study and nurture our journey in faith and the table at which we offer our welcome to those who would join us, no matter how short or long the journey.
Our logo was inspired by the famous Rublev icon of the trinity.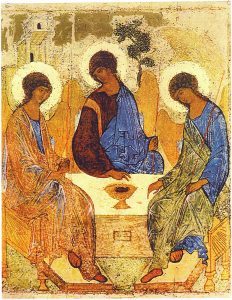 The icon, written in the 15th century, is regarded as one of the highest achievements of Russian art. In it we see the three angels who visited Abraham at the Oak of Mamre, in the book Genesis, but the image is deeply symbolic and is interpreted as an icon of the Holy Trinity. At the time of Rublev, the Holy Trinity was the embodiment of spiritual unity, peace, harmony, mutual love and humility.
The fourth side of the table is left open, inviting us all into that relationship, with God, and with one another. We hope, we offer such and offering here.